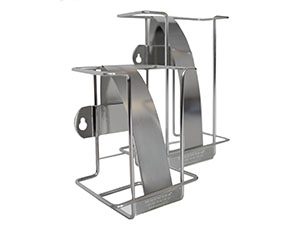 Wet Wipe Wall Mount
For Wet Wipe disposable wipes
The two different suspension brackets are spring-loaded, with the result that the packages are very easy to take wipes out of – whether the brackets are full or half empty
functinal tools for wipes
To make it easier to use Wet Wipe disinfection and universal wipes, we can offer two types of dispenser racks.
This section contains documentation on the Wall Mount
Two types of dispenser racks made of acid-proof 5mm stainless thread.
The wall mounted brackets are designed in close cooperation with users and health organisations at several leading hospitals in Denmark in order to ensure optimal usability.
Hang the Wall Mount on the wall were there is easy acces to it. The two different suspension brackets are spring-loaded, with the result that the packages are very easy to take wipes out of – whether the brackets are full or half empty.
Product numbers
For Wet Wipe Mini
Item no. 30065
For Wet Wipe Maxi
Item no. 31066
Instructions