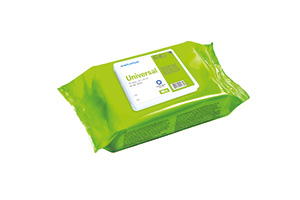 Wet Wipe Universal – A disposable wipe containing water and soap
Cleaning to effectively cut off infection routes
Optimise hygiene
Easy to use
of the bacteria will be removed
Ready-mixed product that saves time and ensures a uniform mixing ratio every time. No lifting, mixing and emptying of buckets of water and soap.
No discharge into drains and treatment plants. Eliminate washing and drying costs.
Keep wipes in a well-ventilated, heat-protected area. Dispose of as ordinary waste. We generally recommend using gloves to protect the skin against drying and degreasing.
This section contains documentation that our disposable wipes deliver on our promise. This page contains a collection of articles, test results, product data sheets, CEI statements, safety data sheets etc.
Below you can see the product data sheet and the safety data sheet.
Cationic detergent < 0.50% H2O > 99.00%
The wipes contain no colourants or perfume – only soap and water.
Clean all water-tolerant surfaces.
Wet Wipe Universal disposable wipes is a safe way to avoid spread of bacteria. Use one wipe per patient in hospitals and care institutions to cut off infection routes, e.g. when cleaning equipment and furniture around patients in hospitals. Also well suited for cleaning other hospital and care institution equipment.
Wet Wipe Universal wipes are also optimal for use in offices and on aircraft, trains, ferries and buses.
Wet Wipe Universal disposable wipes are manufactured in two sizes, which is:
Product no. 41133: Universal Mini
1 package contains 25 wipes, 20×30 cm
Product no. 41153: Universal Maxi
1 package contains 20 wipes, 43×30 cm