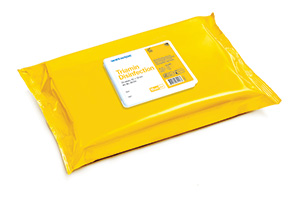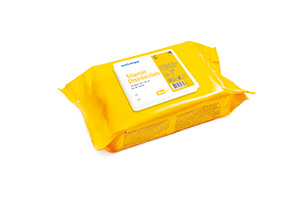 Wet Wipe Triamin Disinfection
Disposable disinfection wipes
Available in two sizes
Reclosable click lid
Ready to use
minutes is the maximum exposure time
minutes will kill most veg. bacteria
Disposable wipes for disinfection of surfaces for vegetative bacteria, yeast with an exposure time of 5 minutes. Low foaming non-sticky disinfection liquid.
No water rinse needed. Visible residual build-up can be easily removed by wiping with damp-moist cloth. No discoloration.
This section contains documentation that our disposable wipes deliver on our promise. This page contains a collection of articles, test results, data sheets, CEI statements, safety data sheets etc.
The biocidal active ingredient is Laurylamine Dipropylenediamine with CAS No.: 2372-82-9. It is a non-ionic disinfection agent that is not used in antiseptic skin disinfection procedures, which minimizes the risk of development of cross resistance.
The wipes have a pH of 8 – 9 and contain no dyes, or perfume.
Lauramylamine Dipropylenediamine is due to its non-ionic character compatible with viscose wipes and will not be neutralized by negatively charged viscose fibres.
2 years stability. To be used within 30 days after opening.
Remember always to read instruction for use before use
These wipes were developed for use on critical surfaces subject to frequent hand contact in the hospital and care sector, e.g. water taps, toilet buttons, keyboards, door handles, electricity outlets, remote controls, patient telephones etc.
How to use the disinfection wipes
The wipes are packed in bags of 20, easy to fit in a product trolley or pocket.
Remove wipe from bag
Remove dirt
Dispose of wipe in rubbish bin, and start afresh!
The wipes ensure uniform disinfection and cleaning every time, avoiding spread of bacteria as the wipes are discarded after use. Result: A clean and shiny surface.
Wet Wipe Triamin Disinfection wipes are manufactured in two sizes.
Product no. 81133: Triamin Disinfection Mini
1 package contains 25 wipes, 20×30 cm
Product no. 81153: Triamin Disinfection Maxi
1 package contains 20 wipes, 43×30 cm