We have expanded our concept and applied it to floor mops – an efficient solution for cleaning, spill control and disinfection of small areas.
Wet Wipe has designed and developed floormops to increase hygiene in places of waste, as well as ensure better working conditions for cleaning workers.
The focus has been on making mop + accessories as simple as possible, without adversely affecting the quality of cleaning and any disinfection.
Application rate of floor mops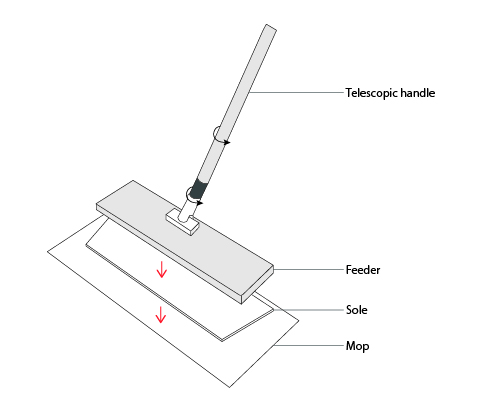 Using the mop system:
Attach to the sole of the feeder.

Place the disposable wipe on the floor.

Push the sole on to the disposable wipe.

Start the cleaning of the floor.

Discard the wipe and sole after use.

Clean the feeder and the telescopic handle.
Sole
Designed in a way that can withhold a very wet wipe or mop
High capacity to absorb the impact from unevenness of the surface
Telescopic handle and feeder
Telescopic handle can be adjusted from 100 to 160 cm in length
The feeder comes in two sizes: 40 and 60 cm