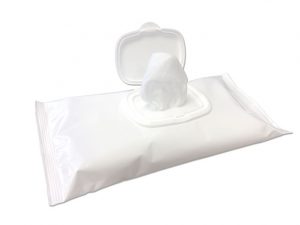 Wet Wipe Ethanol Disinfection 70%
Disposable disinfection wipes for disinfection processes and for pre-cleaning of instruments. Wet Wipe Ethanol Disinfection 70% is used for disinfection of environmental surface and contact points on various devices.
approved by the Food Authority
The wipe are approved by the Danish Food Administration and can thus be used for the disinfection of thermometers in connected with Tp measurement of food and for wiping others surfaces that come into contact with food without rinse with water.
This section contains documentation that our disposable wipes deliver on our promise. This page contains a collection of articles, test results, data sheets, CEI statements, safety data sheets etc.
The wipes are impregnated with ethanol 70% by volume – of which max 7% isopropanol. The wipe are white and made of viscose and polyester.
Remember always to read instruction for use before use
Can be used for disinfection of tables, wires, keyboards, stethoscopes, laboratory equipment, clinical equipment, etc. 
How to use the disinfection wipes
The wipes are packed in bags of 50, easy to fit in a product trolley or pocket.
Remove wipe from bag
Remove dirt
Dispose of wipe in rubbish bin, and start afresh!
The wipes ensure uniform disinfection and cleaning every time, avoiding spread of bacteria as the wipes are discarded after use.
Product numbers
The disposable wipes are manufactured in one size
Product no. 50125: Ethanol Disinfection 70%
1 package contains 50 wipes, 20×20