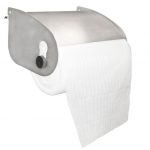 Disposable dry mop for any surface
An effective and quick way of removing dust, hair and dirt in general.
Dust mop cloths are delivered in rolls of 25 pcs. The size of each mop is 60 × 20 cm, which fits perfectly to most regular feeders. Due to the special perforated material, a single disposable dust mop can be used to  clean a very large area in a very short time, therefore removing dust, hair and other dirt much more efficiently than e.g. vacuuming.
This section contains documentation that our disposable wipes deliver on our promise. This page contains a collection of articles, test results, data sheets, CEI statements, safety data sheets etc.
Material: 100% polyester
Weight: 60.0 g/m2
Before use, the dust mop is placed on the floor and simply by pressing the feeder onto the mop makes them securely stick together without having to bend down and manually secure the mop. After use the mop is simply disposed of accordingly.
Product information
Product no. 70573: Dust Mop
1 package contains 25 mops, 60×20 cm
Accessories
It is possible to buy feeder and micropad as acquisitions for this product.