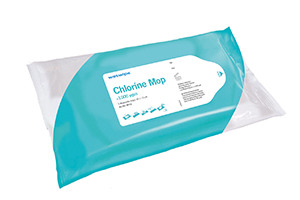 Wet Wipe Chlorine Disinfection Disposable Mop with active chlorine
The package with 3 mops contains a cracking bag with detergent. When the bag is broken, the detergent will spread over the chlorine granulate and the mop will be ready-to-use after 10 min. With Wet Wipe Chlorine Disinfection you achieve optimal and simple disinfection.
This section contains documentation that our disposable wipes deliver on our promise. This page contains a collection of articles, test results, data sheets, CEI statements, safety data sheets etc.
Active chlorine >1000 ppm
Produced in Germany. Safety data sheet available on
request.
Disinfection of surfaces and floors, for example by patients in isolation or clean room. Effective against all viruses including, Norovirus, HIV and Hepatitis B, vegetative bacteria, molds and yeasts and meet the requirements for disinfection of Clostridium difficile.
Due to its unique design, the mop can also be used for non-slip surfaces, where high friction is normally a problem.
Product information
Item number: 60172
1 pack contains 3 mops, 45×13 cm
Accessories
It is possible to buy feeder and sole as acquisitions for this product.